Foreword to his Life & Times
'Michael Collins His Life and Times'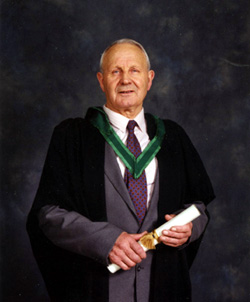 The Author Edward O'Mahony (1997_
FOREWORD
There were two ambushes in my native parish of Kilmurry during the time of the "Troubles" and by a remarkable coincidence both occurred on 22nd August.  In both ambushes an I.R.B. man was killed.  My uncle Michael Galvin was killed while participating in an I.R.A. ambush at Lissarda, Co. Cork of a R.I.C. tender returning to Bandon on 22nd August 1920 while Michael Collins was killed in the course of an I.R.A. ambush at Beal na mBlath of a military convoy that left Bandon on 22nd August 1922.
I first heard the name Michael Collins when, as a six year old child, I tried to use a set of binoculars which I found in the sitting room in the house of grand-mother Mrs Mary Galvin.  My Aunt, Mary Galvin showed me how to use them and told me that they were the binoculars from the Slievenamon – the armoured car that had formed part of the fateful Collin's convoy.  She also told me that the black pony in the stable was the animal that my uncle Sean Galvin rode when he brought the news of Michael Collins' death to the "boys" at Béal Na mBláth.
With such a background, Michael Collins joined Cuchulain in my imagination as a figure of legend, intensified by my first sight of his memorial monument at Béal Na mBláth.  In my childhood innocence I asked questions about Michael Collins but no one seemed to want to talk about him or about what happened at Béal Na mBláth.  The position changed when I had access to a library and for more than fifty years I have read everything that was published about him.
Those who grew up in the thirties on a family farm in West Cork went through the hard times of the Economic War with England.  Our parents told us that they were softer times then than when they grew up but, in retrospect, the thirties were tough times.  Yet the thirties were years when the spirit of Irish nationalism was strong.  Young people developed an interest in Irish history and the fight for freedom.  We read the writings and mystic poetry of Padraig Pearse and admired the man of action from West Cork, Michael Collins.
There were many similarities in the upbringing of farm families in West Cork in the early nineteen hundreds and the nineteen thirties.  We sang the same songs, recited many of the same ballads and read many of the same books.  Only a small number of householders possessed a wireless and the variety of radio programmes was very limited.  We made our own fun in our own locality.  We were encouraged to be independent and told to "stand your own ground boy".  Our parents and neighbours defined what was right and what was wrong.  They helped to form our characters and shaped our adult views.
The boy Michael Collins had the same background.  His heroes were those of his time – O'Donovan Rossa and Tadg an Asna.  Our heroes were Michael Collins and Tom Barry and the many local men known to us who had taken part in the fight for freedom.  As a young man, I experienced reluctance among old I.R.A. men to talk about Michael Collins and Béal Na mBláth.  I would be told that he was a great man, and then the subject would be changed.  Some of the men I knew and admired were among the 12,000 I.R.A. prisoners held in internment camps until 1924.
By the time I had become a university student and playing with local parish teams I found that older men spoke more freely with me.  They told me what caused them to join Sinn Fein.  All were proud of the part they played but few were rich.  Veterans would attend the annual commemoration ceremonies at Kilmichael and Crossbarry.  They would not attend at Béal Na mBláth but would attend Lissarda.  Men who had been interned said that they feared for their lives and property if it became known that they were in any way connected with Béal Na mBláth.  They swore an oath of silence about the incident and when captured surrendered under false names and false addresses.
The description of Béal Na mBláth ambush is based on the written accounts of E. Dalton, M. Corry, and L. Deasy and on the account by the six surviving senior officers compiled by Florence O'Donoghue in 1964 and from the conversations with participant, which I have referred to.  Liam Deasy O.C. 1st Southern Division of the I.R.A. who sanctioned the ambush was an intimate I.R.B. friend of Michael Collins.  He described how he and other friends of Collins felt, later that night on hearing the news that Collins was shot that "our sorrow was deep and lasting…. as they made their silent journey back to Gurranereagh".  He later wrote, "when I first met him fifty-six years ago I considered him then to be the greatest leader of our generation and I have not since changed that opinion".  There is no better epitaph.
EDWARD O'MAHONY