We are proud to present the General Michael Collins Centenary Medal which was designed and created by our member Eric Copperthwaite.
This LIMITED edition which is presented in a beautiful box makes for a wonderful keepsake for all time, and also for  our proud members and friends in The National Collins22 Society, and other organisations besides such as the O.N.E, the UN Veterans Association, serving members of our PDF and RDF etc. and for any serious collector of Michael Collins' related items.
Collins will never be forgotten.

FRONT of the medal: has Michael Collins with his name spelled in Irish,
1922 – 2022 marks the 100 years of his death anniversary 
(Michael Collins died on 22nd August 1922)
REVERSE of the medal:
                                  GENERAL MICHAEL COLLINS
                                         CENTENARY MEDAL
                                                Béal na Bláth
                                                  CO. CORK
(The black ribbon signifies mourning).
To obtain one of these beautiful medals see details below:
PRICE €75
€10 p&p within Ireland (Register package with tracking supplied)
€19 p&p Rest of the world  (Register package with tracking supplied)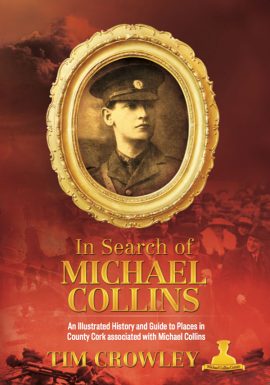 Available to Purchase
In Search of Michael Collins
Written by Timothy Crowley
News
Live trader video games now have its attraction...
Make an Online Gift towards the flowers which our Dublin Branch Committee Officers replenish every week throughout the year.
IBAN: IE87BOFI90057889111224

BIC: BOFIIE2DXXX
Membership
For membership contact Lynn Brady at:
nationalcollins22@gmail.com
Membership fee is €20 per annum.
You will recieve a Membership Certificate which will be emailed to as soon as your membership has been processed.
Please Note: We do not do Lifetime Memberships anymore except in cases of Honorary Members, and we presently do not send certificates and badges by post nationally or internationally due to to unforseen costs and also in compliance with national and international postal services regulations.
Membership is International and open to all.
You can also join us on our very active Facebook page:
The National Collins22 Society Dublin Branch.
.