Liberty Hall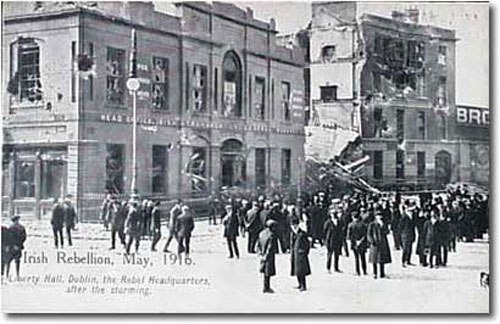 Dublin's modern-day Liberty Hall would be fairly at home in any large metropolis. Built in 1965, it was once the highest building in Dublin.
The current Liberty Hall houses trade union offices and an events space. In 1916, a completely different structure stood here that was very instrumental in the Easter Rising. Liberty Hall housed a munitions production line for the upcoming rebellion and the Proclamation was printed in its basement. It was also the first meeting spot for the leaders before heading off to the GPO.
Although vacant at the time, Liberty Hall was completely destroyed by the British gunship "Helga" which attacked from the Liffey. By day three (Wednesday), Liberty Hall was completely shelled.
The building was repaired afterwards, but eventually demolished in the 1950s.
This photo was taken immediately following the rebellion for a postcard series to showcase the ruins of the city.