Vinny Byrne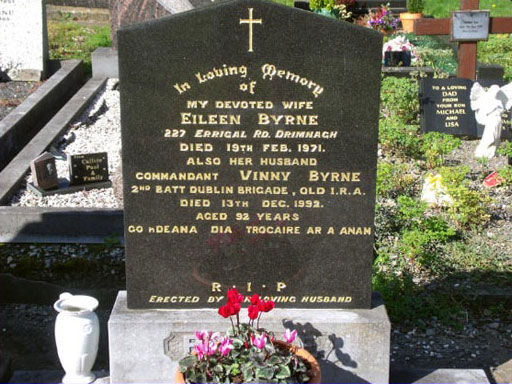 Vincent (Vinny) Byrne Joined the Irish volunteers in 1915 at the age of 14. He fought in E Company, 2nd Battalion during the 1916 Easter Rising at Jacobs Biscuit Factory on Bishop Street, Dublin seeing for the first time a man killed by gunfire. At one point armed with a .22 rifle the 14 year old Byrne held 2 policemen prisoner. He fought here alongside men such as Thomas MacDonagh, John McBride (a veteran of the Boer War) and Mick McDonnell (later leader of the Squad). After the surrender order he escaped and was arrested in a British Army sweep on the following Saturday.
A group of the younger rebels were then held in Richmond Barracks (generally treated well in comparison to those at the Rotunda). One of the DMP men who fingerprinted him at Richmond Barracks was Detective Johnny Barton (later killed by Collins Squad on 29th November 1919). During questioning he was asked "Why did I not join the British Army. I said I would be fighting for England then and not for Ireland." Due to their age they were released the following Friday evening (the older men being deported to Stafford Jail and then Frongoch Concentration Camp in Wales). In his statement to the Bureau of Military History he noted that "It might be well to mention that, strangely enough, in later years I was officer commanding this same barracks where I was held prisoner."
Vinny Byrne went on the fight with Michael Collins counter intelligence unit 'The Squad', taking part in the standard guerilla warfare activities of intelligence gathering, raids for weapons, vehicles and supplies, ambushes, attacks and assasinations all throughout the Irish War of Independence (January 1919 – Truce July 1921).