Sean MacEoin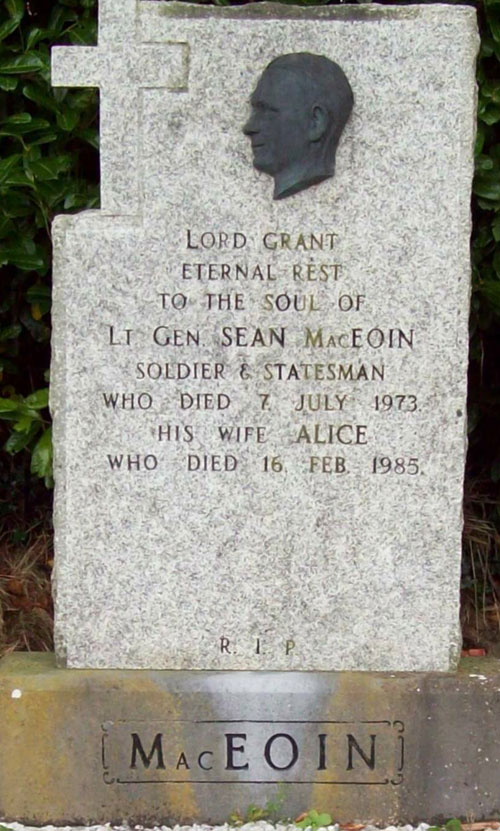 Seán Mac Eoin (30 September 1893 – 7 July 1973) was an Irish Fine Gael politician and soldier. He was commonly referred to as the "Blacksmith of Ballinalee".
Seán Mac Eoin was born John Joseph McKeon on 30 September 1893 at Bunlahy, Granard, County Longford, the eldest son of Andrew McKeon and Catherine Treacy. After a national school education he trained as a blacksmith in his father's forge and, on his father's death in February 1913, he took over the running of the forge and the maintenance of the McKeon family.
His national activities began in earnest in the same year when he joined the Clonbroney Company of the Irish Volunteers and was sworn into membership of the Irish Republican Brotherhood.
He came to prominence in the War of Independence as leader of an Irish Republican Army (IRA) flying column. In November 1920, he led the local column in attacking Crown forces in Granard during one of the periodic government reprisals, forcing them to retreat to their barracks. The next day, he held the village of Ballinalee against superior British forces, forcing them to retreat and abandon their ammunition.
At the Clonfin Ambush Mac Eoin ordered his men to care for the wounded British, at the expense of captured weaponry. This earned him both praise and criticism, but became a big propaganda boost for the war effort, especially in the United States.[4] He was admired by many within the IRA for leading practically the only effective column in the midlands.
He was captured at Mullingar railway station in March 1921, imprisoned and sentenced to death for the murder of an RIC Inspector.[1]
Mac Eoin's family forge was near Currygrane, County Longford, the family home of Henry Wilson, the British CIGS. In June 1921 Wilson was petitioned for clemency by MacEoin's mother (who referred to her son as "John" in her letter), by his own brother Jemmy, and by the local Church of Ireland vicar, and passed on the appeals out of respect for the latter two individuals. Three auxiliaries had already given character references on his behalf after he had treated them chivalrously at the Clonfin Ambush in February 1921. However, Macready, British Commander-in-Chief, Ireland, confirmed the death sentence describing Mac Eoin as "nothing more than a murderer" and writing that he was probably responsible for other "atrocities", but also later recorded in his memoirs that Mac Eoin was the only IRA man he had met, apart from Collins, to have a sense of humour.[5]
Mac Eoin wrote this poignant letter to his friend (and classmate at Moyne Latin School) Father Jim Sheridan, a combatant in the Old IRA and a "Flying Column" member who had been ordained and sent to Milwaukee to study theology: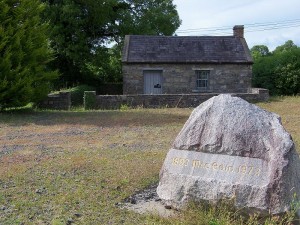 "Dear Jim, Last week I was tried, convicted and sentenced to die three weeks from today. My poor mother was here yesterday to request that my body be turned over to her for Christian burial. They refused and told her that my body would be buried in quicklime in the prison yard. If you write immediately, I will receive your letter before I died. Farewell, Jim. Pray for my soul."
According to Oliver St. John Gogarty, Charles Bewley wrote Mac Eoin's death-sentence speech. Michael Collins organised a rescue attempt. Six IRA Volunteers, led by Paddy O'Daly, captured a British armoured car and, wearing British Army uniforms, gained access to Mountjoy Prison. However, Mac Eoin was not in the part of the jail they believed, and after some shooting, the rescue party retreated.
Mac Eoin was eventually released from prison – along with all other members of the Dail – after Collins threatened to break off treaty negotiations with London unless he was freed. It was rumoured that Sean Mac Eoin was to be the best man at Collins' wedding
In 1929 he resigned from the Army and was elected at a by-election to Dáil Éireann for the Leitrim–Sligo constituency. At the 1932 general election he moved to the constituency of Longford–Westmeath and served the Longford area as TD in either Longford–Westmeath (1932–37, 1948–65) or Athlone–Longford (1937–48) until he was defeated at the 1965 general election.
During a long and distinguished political career he served as Minister for Justice (February 1948 – March 1951) and Minister for Defence (March–June 1951) in the First Inter-Party Government, and again as Minister for Defence (June 1954 – March 1957) in the Second Inter-Party Government.
He unsuccessfully stood twice as candidate for the office of President of Ireland, against Seán T. O'Kelly in 1945, and Éamon de Valera in 1959.
MacEoin retired from public life after the 1965 general election and died on 7 July 1973. He married Alice Cooney on 21 June 1922 at a ceremony attended by Griffith and Collins, she died on 16 February 1985. They had no children.