Sean Doyle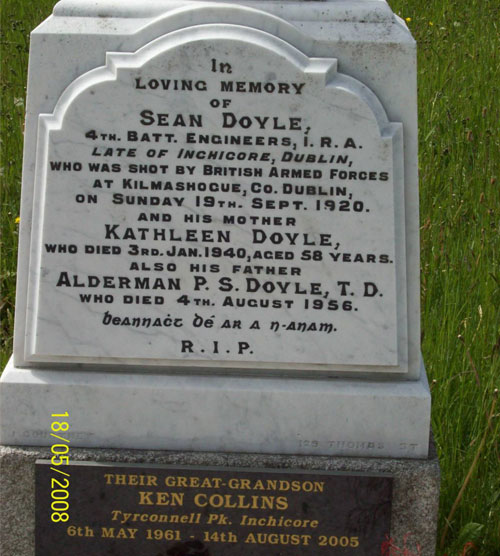 The core of Collin's assassination work was done by "The Squad". The Squad was 'officially' established on 19 September 1919 at 46 Rutland (Parnell) Square (though by that time it had been in operation for two months and had already carried out two killings).
Members were paid £4.10s per week. Officially the unit was a part of the Dublin Brigade under Dick McKee from Finglas, but they were separate from the Battalion structure and directly under the command of Collins, McKee and Mulcahy. They developed a vast network of sympathisers who ranged from Dublin Castle detectives to women working in lodging houses, which enabled them to identify British agents.
The first commander was Michael McDonnell, and later Paddy Daly O'Donnell was in command on Bloody Sunday, but soon afterwards his health collapsed and Collins sent him to USWA to recuperate.
The founder members were
Paddy Daly (leader), did not directly lead any of the attacks on Bloody Sunday, involved in co-ordination
Mick McDonnell – 7 Ranelagh Rd
Ben Barrett
James Conroy – 38 Upper Mount St ?Herbie
Sean Doyle – 119 Morehampton Rd,
Joe Leonard – 92 Lower Baggot St
Pat McCrea – one of the killings in Baggot Street (getaway driver, rather than gunman)
Jim Slattery – 22 Lower Mount Street
Bill Stapleton. – 92 Lower Baggot St