Margaret Collins-O'Driscoll
Margaret Collins O'Driscoll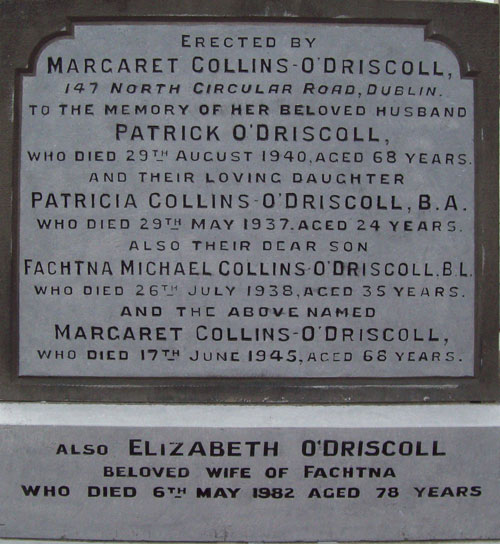 Margaret Collins-O'Driscoll (née Collins; 1878 – 17 June 1945)
(Buried: Glasnevin Cemetery)
Birth: Aug. 16, 1876 Woodfield, Lisavaird, Clonakilty County Cork, Ireland – Died: Jun. 15, 1945  Dublin,
Daughter of Michael John Collins and Marianne O'Brien. Margaret was a sister of Michael Collins she married Patrick O'Driscoll in 1902.
Fachtna Michael Collins-O'Driscoll (1902 – 1938)*
Eva Marie Collins-O'Driscoll (1907 – 1996)*
Patricia Johanna Collins-O'Driscoll (1913 – 1937)*
Finola Collins-O'Driscoll (1919 – 1986)
Margaret a sister of Michael Collins was educated at Baggot Street Teacher Training College . Was a school teacher and school principal before entering politics as a Cumann na nGaedhael TD. She was first elected to Dáil Éireann at the 1923 general election. She was re-elected at every subsequent election until she lost her seat at the 1933 general election.