Erskine Childers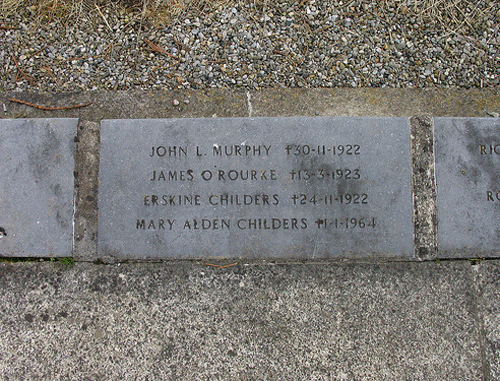 Robert Erskine Childers DSC (25 June 1870 – 24 November 1922), universally known as Erskine Childers was the author of the influential novel 'Riddle of the Sands' and an Irish nationalist, who was executed by the authorities of the nascent Irish Free State during the Irish Civil War. He was the son of British Orientalist scholar Robert Caesar Childers; the cousin of Hugh Childers and Robert Barton; and the father of the fourth President of Ireland, Erskine Hamilton Childers.
Before his execution, in a spirit of reconciliation, Childers obtained a promise from his then 16-year-old son, the future President Erskine Hamilton Childers, to seek out and shake the hand of every man who had signed his father's death warrant. Childers himself shook hands with each member of the firing squad that was about to execute him. His last words, spoken to them, were (characteristically) in the nature of a joke: "Take a step or two forward, lads. It will be easier that way."
Winston Churchill, who had actively pressured Michael Collins and the Free State government to make the treaty work by crushing the rebellion, expressed the widely held view of Childers at the time: "No man has done more harm or done more genuine malice or endeavoured to bring a greater curse upon the common people of Ireland than this strange being, actuated by a deadly and malignant hatred for the land of his birth." Some Irish (principally those against the treaty) claimed Childers's execution was politically motivated revenge, an expedient method of halting the continuing flow of anti-British political texts for which Childers was widely credited
In an interview given to Hayden Talbot in 1922 Arthur Griffith is quoted as saying – " That document (document No 2) was not written by deValera ; it was the product of Erskine Childers' brain. Three times this man who has spent most of the years of his life in the employ of his native country, England, drafted and redrafted Document No.2. Three times we submitted it to Lloyd George. Three times he turned it down. There was nothing of a Republic in that document; it included an oath of allegiance to King George ; it was not altogether unnatural in view of its authorship that it was decidedly more English than the Treaty itself ! But let it not be forgotten that the man who now poses as an uncompromising Republican did everything in his power to saddle Ireland with an obligation very much more difficult to have met than is contained in the Treaty.
."Asgard" was Childers's last, and most famous, yacht: in June 1914 he used it to smuggle a cargo of 900 elderly but serviceable Mauser Model 1871 rifles and 29,000 rounds of black powder cartridge ammunition to the Irish Volunteers movement at the fishing village of Howth, Co Dublin (later known as the "Howth gun-running"). It was acquired by the Irish government as a sail training vessel in 1961, stored on dry land in the yard of Kilmainham Gaol in 1979, and finally becoming a static exhibit at The National Museum of Ireland in 1997