Dick Mulcahy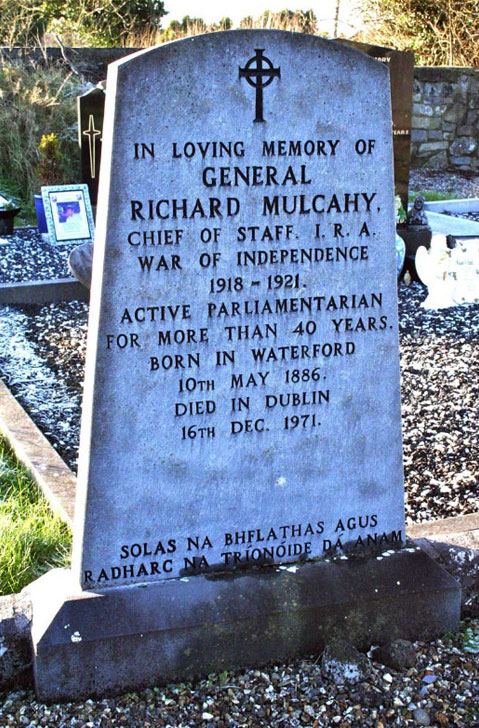 Richard James Mulcahy  (10 May 1886 – 16 December 1971) was an Irish politician, army general and commander in chief, leader of Fine Gael and Cabinet Minister. He fought in the 1916 Easter Rising, served as Chief of Staff of the Irish Republican Army during the War of Independence and was commander of the pro-treaty forces in the Irish civil war.
He and Michael Collins were largely responsible for directing the military campaign against the British during the War of Independence. During this period of upheaval in 1919 he married Mary Josephine (Min) Ryan, sister of Dr. James Ryan and sister of Kate and Phyllis Ryan, successive wives of Seán T. O'Kelly, these two men who would later be members of Fianna Fáil governments.Mulcahy supported the Anglo-Irish Treaty of 1921 and became commander of the military forces of the Provisional Government during the subsequent Civil War.
He earned notoriety amongst anti-treaty supporters through his order that captured anti-Treaty activists found carrying arms were liable for execution. A total of 77 anti-Treaty prisoners were executed by the Provisional Government. Mulcahy served as Defence Minister in the new Free State government from January 1924 until March 1924, but resigned in protest because of the sacking of the Army Council after criticism by the Executive Council over the handling of the so-called Army Mutiny — when Irish Army some veteran War of Independence officers almost revolted after Mulcahy demobilised many of them at the end of the Civil War. He re-entered the cabinet as Minister for Local Government and Public Health in 1927.
After the resignation of W. T. Cosgrave in 1944, Mulcahy became leader of Fine Gael while still a member of the Seanad. Thomas F. O'Higgins was parliamentary leader of the party in the Dáil at the time. Mulcahy was returned again to the 12th Dáil as TD for Tipperary at the 1944 general election. Mulcahy was faced with the task of reviving a party that had been out of office since 1932.
Facing into his first General Election as party leader, Mulcahy drew up a list of 13 young candidates to contest seats for Fine Gael. Of the eight of these that ran, four were elected. Mulcahy had successfully cast aside the Cosgrave legacy of antipathy to constituency work, traveling the country on an autocycle and succeeding in bringing some new blood into the party. While Fine Gael's decline had been halted, its future was still in doubt, at least until the non Fianna Fáil parties realised they had won a majority.
Following the 1948 general election, Fianna Fáil finished six seats short of a majority. However, Fianna Fáil was 37 seats ahead of Fine Gael, and conventional wisdom suggested that Fianna Fáil was the only party that could possibly form a government. Just as negotiations got underway, however, Mulcahy realised that if Fine Gael, the Labour Party, the National Labour Party, Clann na Poblachta and Clann na Talmhan banded together, they would have only one seat fewer than Fianna Fáil–and that if they could get support from seven independents, they would be able to form a government. He played a leading role in persuading the other parties to put aside their differences and join forces to consign Eamon de Valera to the opposition benches.
Mulcahy initially had the inside track to becoming Taoiseach in such a government. However, Mulcahy was not acceptable to Clann na Poblachta's leader, Seán MacBride. Many Irish Republicans had never forgiven him for his role in the Civil War executions carried out under the Cosgrave government. Without Clann na Poblachta, the other parties would have had 57 seats between them – 17 seats short of a majority in the 147 seat Dáil. However, according to Mulcahy, it was Labour leader William Norton who suggested another person as Taoiseach. There is no documentary evidence to confirm that MacBride and his party refused to serve under Mulcahy, although Norton may have been influenced by McBride. In any event, Mulcahy stepped aside and encouraged his party colleague Attorney General John A. Costello to take the post of Taoiseach. From then on, Costello served as parliamentary leader of Fine Gael while Mulcahy remained nominal leader of the party.
Mulcahy went on to serve as Minister for Education from 1948 until 1951. Another coalition government came to power at the 1954 election, with Mulcahy once again stepping aside to become Minister for Education in the Second Inter-Party Government. The government fell in 1957, but Mulcahy remained as Fine Gael leader until October 1959. In October 1960 he told his Tipperary constituents that he did not intend to contest the next election.
His son, named Risteárd Mulcahy, is a highly regarded cardiologist (now retired) in Dublin. His daughter Neilli designed the uniforms for Aer Lingus in 1962. Richard Mulcahy died in Dublin on 16 December 1971, at the age of 85 from natural causes.