The Tipperary Connection
General Michael Collins The Tipperary Connection
News and Information From The Heart of Tipperary
When next you wend your way from Nenagh back towards Thurles, a small graveyard, which contains the fragmented ivy covered ruin of a small Norman Abbey, catches your eye, to the left and directly opposite Tyone Mill. To most passersby, this graveyard holds little significance in today's world of celebrities, greedy power hungry politicians, bankers and spin doctors. Yet in this small graveyard lies the body of a man who once lived in our midst, keeping a guilty secret for some 28 years and indeed, if we believe those who knew him well, regretting his actions, right up until his death in 1950.
The Death of Michael Collins at Beal na mBláth by John Hourahan
The man of whom I speak is Denis 'Sonny' O'Neill, the man responsible for the assassination of General Michael Collins on August 22nd, 1922, during the course of that fifteen to twenty minute gun battle at Béal na mBláth.
While historians continue to invent dubious conspiracy theories, mainly to sell their latest publications, it becomes more difficult to determine who fired the shot that took a most remarkable Irish man from our world. It is difficult to know, now, where truth ends and speculation begins, but sound logic and careful research points the blame clearly at the doorstep of Denis 'Sonny' O'Neill, the trained ex British army marksman and sniper, born possibly in Goggin near Bandon in 1888.
The group involved in this skirmish on the 22nd consisted of Tom Hales, Jim Hurley, Dan Holland, Tom Kelleher, Sonny O'Neill, Paddy Walsh, John O'Callaghan, Sonny Donovan, Bill Desmond and Dan Corcoran. They had left their prepared ambush positions and were helping to clear the road and decommision the Landmine before dispersing, when the noise of an approaching motorcycle and lorries were heard coming from the south.
As the anti-treaty forces retreated, a dum-dum bullet from an elephant gun, ( the latter was substituted for another rifle by Sonny O'Neill, from a consignment of arms intended by Michael Collins to be sent northwards in support of the Northern IRA) entered the forehead of General Collins just below his left hairline. The bullet exited behind his right ear, removing part of his head, belying his own words "Yerra, they'll never shoot me in my own county". Dr. St John Gogarty and embalmers at St Vincents Hospital, Stephens Green, Dublin had to use several pounds of melted wax to fill the space left by the bullet as it exited.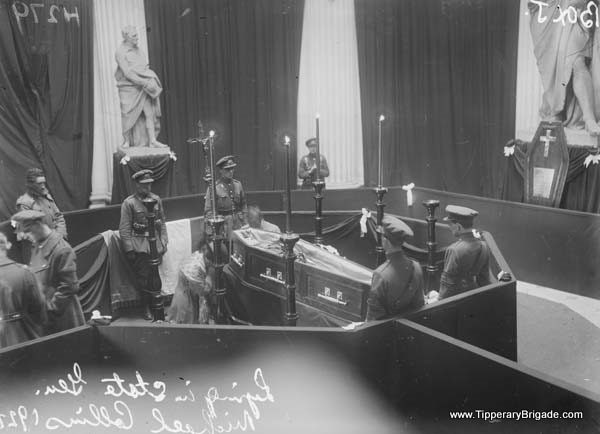 Michael Collins lying in state in Dublin's City Hall
No one else lost their life on that fateful day and O'Neill was certain as he retreated that he had hit one of the pro-treaty forces. Unaware that the target he hit was Collins, O'Neill, on learning of Collins death the following morning, told James Kearney that he knew that it was him who had shot Collins, and Maurice 'Moss' Twomey from Clondulane, Fermoy, County Cork, Staff Commandant of the 1 Southern Division, was also aware of who the assassin was. Ten years later O'Neill would also relate a full account to a trusted female friend, Kitty Teehan.
Following Collins funeral, which saw an attendance of 500,000 mourners, the general feeling amongst O'Neill's associates was that his life was now in danger if he remained in his native county of Cork, so O'Neill moved, arriving one night at the Paddy Ryan 'Lacken' homestead at Knockafune, Newport, and hiding out in a small remote house on Keeper Hill, where he continued to fight with local Tipperary Republicans against the Free State Army, until the end of hostilities. He would never return to his native county again.
About 1926 O'Neill took up residence, lodging at Rohan's, Queen's Street, Nenagh, Co Tipperary, where he met Mary Anne his future wife. He worked at the Tomkins Nursing home in the same street. A popular man locally, loving sports and in particular Greyhound racing, he was a founder member of the Fianna Fail Party in Nenagh and was elected to North Tipperary County Council.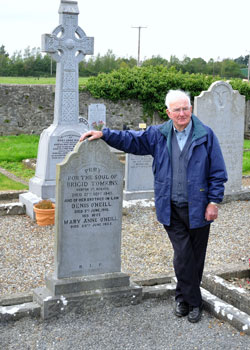 The Author John Hourihan, Historian
Michael Collins devoted his life to honouring Ireland but Ireland has never properly honoured him. For 17 years, his remains lay in a simple plot in Glasnevin cemetery. In 1935, one of his former comrades, who had acquired money through the Hospital Sweepstakes, bought a quarter of a ton of marble and both he and the Collins family fought for over four years, seeking permission to erect a simple cross over his burial plot.
The then Taoiseach Éamon de Valera finally relented, but with a number of stipulations. The cross was not to be of marble but rather limestone and should not cost more than £300. There was to be no publicity, just a simple inscription in Irish, which would be approved by Éamon de Valera himself. Only one relative, Collins brother Johnny, was allowed to be present at the memorial blessing ceremony. The blessing was indeed attended by his brother, with one priest, one altar boy, the foreman gravedigger and one other gravedigger who happened to be passing nearby the grave at the time.
In 1966 the then President of Ireland, Éamon de Valera stated: "It is in my considered opinion that in the fullness of time history will record the greatness of Michael Collins, and it will be recorded at my expense."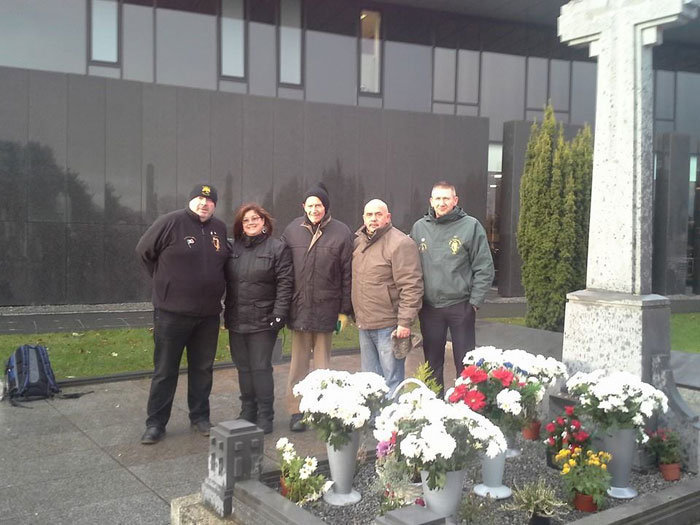 Flower arranging at the grave of Michael Collins in Glasnevin is performed by members of the Dublin Branch of the Collins 22 Society. This Photo : Paul Callery, Veronica from Uraguay, Denis Lenihan, Ron Daly and Rod Dennison