Dr. Pat Wallace
DR. PAT WALLACE  AUGUST 2003
Director of the National Museum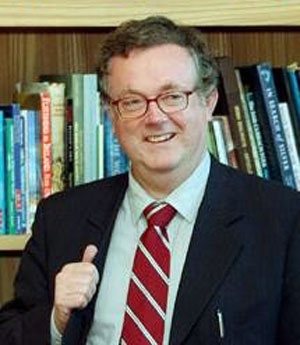 A greater respect for our national heritage, a return to teaching the history of ancient and medieval Ireland along with the use of Gaelic place-names for new housing schemes. These and the cultivation of a more widespread respect for our archaeological field monuments and built environment should be priorities in the rescue of Ireland from the short-sighted, materialistic blandness and the Anglo-American malaise which now threatens to submerge the country said Dr. Pat Wallace, Director of the National Museum at yesterday's annual Michael Collins commemoration at Béalnablath. " Are we becoming a nation which is in danger of not telling anyone including ourselves about our interesting past", he asked…..
Speaking of Collins's great interest in Gaelic Ireland, the revival of Irish and our ancient past, Dr. Wallace eschewed the North, economic development and the political aspects more associated with Collins; instead he used quotations from Collins's own writings, to justify his belief that Collins's vision of a free Ireland was one where pride in our past was paramount. In many ways Collins's language and beliefs were inspired by Davis and MacDiarmada and were closer to those of Pearse and Connolly and de Velera than is often realised.
Wallace questioned' the diminishment of Irish studies in our universities and of history as a subject in the secondary school curriculum and particularly reflected on why ancient and medieval Ireland and Europe were no longer seriously taught in secondary schools in contrast to 30 years ago when the history of this period could be taken to Leaving Cert honours level." The present environment sought to turn out generations of trained technocrats whose spirits would be the poorer for being denied access to an education on the achievements of ancient and medieval Ireland. "Such a deprivation would make us poorer Europeans given the relevance of Ireland to the foundations of pre- and non- Roman Europe." They would also ill equip us to make our immigrants fully welcome to our shores' these along with our own students should be invited to become immersed in the fullest study of Ireland's past and to adopt our myths and our heroes. Future generations will be all the better for such a process, one that shouldn't cost anything more than words of encouragement from the relevant quarter.
Dr, Wallace also said the best way of preserving our monuments and archaeological heritage was by explanation, education and persuasion and not simply by having to rely on national monuments legislation, good thought this was. He paid tribute to the countless farmers and landowners who had been the proud custodians of field monuments on their lands over the decades and thanked everyone including the Gardaí for reporting archaeological discoveries to the National Museum.
He deplored the failure of marketing dominated builders and developers to use Irish place names for new works calling it the "Beverley Downs" syndrome. Collins's life's work and vision could never have envisaged the Irish in thrall to Posh and Becks and others whom Collins would have called non-entities or that nation of Dun Scotus Erugina could be spiritually fulfilled by something like the Eurovision song contest.
Béal na bláth should become "a national shrine for the affirmation of an annual awareness of who we are, from where we have come and in tribute to Collins, where we would wish to go as a nation" he concluded.