MICHAEL COLLINS CENTENARY COMMEMORATION 2022 CLONAKILTY CO. CORK
MICHAEL COLLINS CENTENARY COMMEMORATION 2022, CLONAKILTY, CO CORK.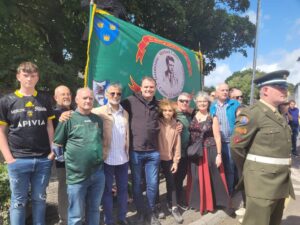 What an honour it was last Saturday for the Collins22 Society to be invited by the Clonakilty Centenary Committee to march in and fly our beautiful banner in their parade.as part if the Michael Collins Centenary Commemoration Festival.
On behalf of the Society I would like to especially thank Mr. J.J. Welsh and the Clonakilty Centenary Committee for their invite and for their kind hospitality towards us while we were there as their guests.
I'd also like to thank Martin Condron for his warm explanation to the audience attending the Symposium concerning the work and dedication of our group who attend the grave of General Collins each week throughout the year.
The whole event, and indeed the day and night were amazing, and we certainly made plenty more friends and met old acquaintances.
I'd like to add that this event was such a success, I hope it becomes a yearly tradition, and should such a wonderful idea be pursued, we in the Collins22 Society would certainly support it.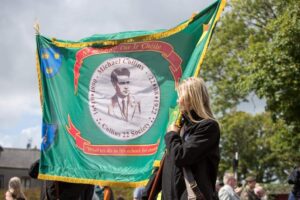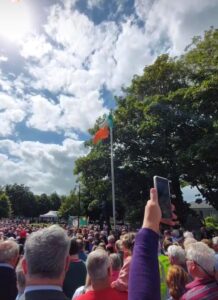 Archives
Calendar
November 2023
M
T
W
T
F
S
S
1
2
3
4
5
6
7
8
9
10
11
12
13
14
15
16
17
18
19
20
21
22
23
24
25
26
27
28
29
30