James O'Connor (Fenian)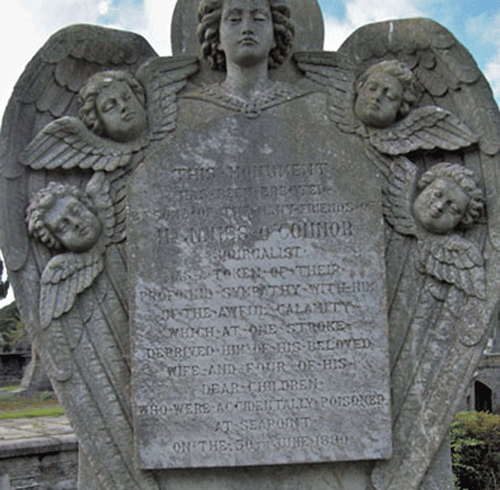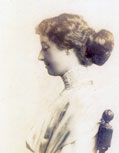 Photograph of Moya Llewelyn Davies. Courtesy of Melissa Llewelyn Davies.
Buried in Deansgrange Cemetery.
Moya Llewelyn Davies Born: Blackrock, Dublin, 25 March 1881
Died: Unknown, 28 September 1943.
Buried: Deansgrange Cemetery,
ON the last day of June 1890 the life of a little girl was changed forever. On that day she lost her mother, her older sisters Annie, (13), Eily, (10), Kathleen, (7), and Norah, just 5 years old. Nine year old Moya was with them when they died but she was too young to change anything. They had eaten poisoned shellfish. Moya always maintained that, as she had been naughty and sent to her room without any supper, her life had been spared.
This little girl grew up to be a Gaelic scholar and an activist during the War of Independence, one of Michael Collin's trusted spies. Although remembered as Moya Llewelyn Davies, her married name, she was born Mary Elizabeth O'Connor in Blackrock on 25 March 1881. Her father was the Fenian James O'Connor, who, during the year of her birth was held in Kilmainham Jail for his political activities. He had already served a sentence from 1865-1869, for 'feloniously conspiring to depose the Queen'. He was on the Supreme Council of the Irish Republican Brotherhood. In the latter part of his life, while Moya was growing up, he espoused the parliamentary tradition and served as a Member of Parliament in Westminster for West Wicklow from 1892 until his death in 1910.
Moya had lived with her father until she was 18 and in 1899, she left Ireland when her father remarried. Her life in London seemed far removed from the revolutionary home in which she was reared. She joined the British civil service. A decade later in 1909, she married Crompton Llewelyn Davies, a successful lawyer, and confidant of Lloyd George who was 13 years Moya's senior. They had two children, Richard (b.1912), who became a renowned architect and Katherine (b.1915), who became a Celtic scholar.
At the commencement of the War of Independence, Moya returned to Ireland to take an active role. Her husband also assisted in the Irish bid for freedom by passing on intelligence information to Michael Collins whom they had both known in London. The couple purchased Furry Park in Killester, three miles north of Dublin city in 1919, which became a safe house for Collins and others. Moya used her car to smuggle guns. Her connections with the establishment were an ideal cover for espionage. However, she was soon under suspicion and the house was frequently raided. Her husband's dual role was discovered and he lost his job, whilst Moya was imprisoned in Mountjoy.
Moya had always been a writer. She assisted Collins with his book Path to Freedom. The work that would have the greatest impact however was her translation, with George Thompson, of Fiche Bliain Ag Fás, Múiris Ó Súilleabháin's autobiography 'Twenty Years A-Growing', describing his youth on the Great Blasket Islands. She also wrote a biography, but sadly this memoir was never published, and the manuscript has been lost. It is only possible to take fragmentary pieces of her life to try to tell her story.
Until 2003 even her grave was unmarked. In that year a distant relative, Chrissy Osbourne, and others, erected a small memorial in Deansgrange Cemetery. In Memory of Moya Llewelyn Davies of Killadreenan House, Newtownmountkennedy, Co Wicklow, died 28 September 1943, remembered by her admirers.