Emmet Dalton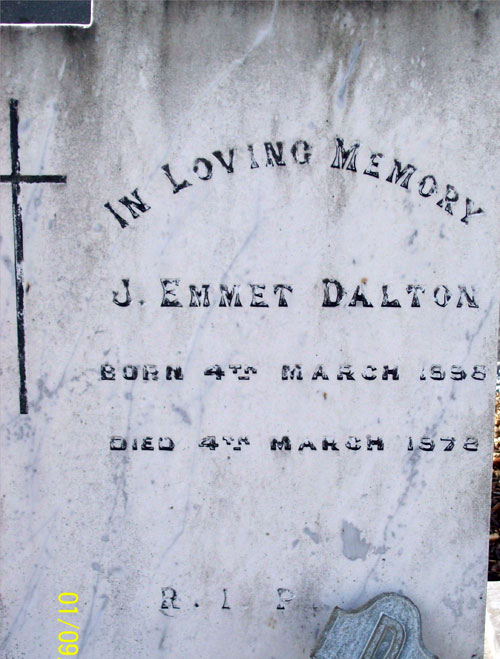 Emmet Dalton's father was a third-generation Irish-American Republican who had returned to Ireland in 1900 and his family's political activism probably explains why Emmet joined the Dublin Volunteers at their inaugural meeting in 1913, at the tender age of 15, and was actively involved in smuggling arms by the time he was 16. His younger brother Charlie also joined, and went on to become a member of Collins' inner circle.
Much to the chagrin of his father, in 1915 Dalton answered Redmond's call to arms, joining the British Army as a temporary 2nd lieutenant in the 7th Service (Dublin Pals) Battalion, Royal Dublin Fusiliers (RDF) at 17. By 1916, he was attached to the 9th Battalion, RDF, 48th Infantry Brigade, 16th Irish Division under Major-General W.R. Hickie. Most of the officers and men in this Division were Redmondite Home-Rulers and, like Dalton, were horrified by the news of the Easter Rising.
It was while serving with the 9th 'Dubs' that Dalton befriended an old acquaintance of his father, Lieutenant Tom Kettle MP, the 36-year-old Nationalist MP, for East Tyrone and Professor of Economics at University College Dublin. It was Kettle who had famously declared that Irishmen should fight "not for England, but for small nations", a sentiment that Dalton seemed to fully endorse. Kettle hoped that, "with the wisdom which is sown in tears and blood, this tragedy of Europe [World War I] may be and must be the prologue to the two reconciliations of which all statesmen have dreamed, the reconciliation of Protestant Ulster with Ireland, and the reconciliation of Ireland with Great Britain."
By the summer of 1916, the 16th Irish Division was fully embroiled in the bloody battle of the Somme. On 9 September, RDF attacked the Germans near the village of Ginchy, and Kettle, then acting as OC of B Company, was shot and killed within sight of Dalton. The fighting around Ginchy was bloody and along with Kettle, over 4,314 Irishmen became casualties; 1,167 of them were never to see Ireland again. It was also a battle where heroism went hand in hand with sacrifice. Dalton was among those recognized for their courage and was awarded the Military Cross.
For the rest of his life, Dalton was known as "Ginchy". According to his Military Cross citation, he "led forward to their final objective companies which had lost their officers. Later, whilst consolidating his position, he found himself with one sergeant, confronted by 21 of the enemy, including an officer, who surrendered when he attacked them." Later that year, King George V presented him with his medal at Buckingham Palace. Speculation that he once served on the staff of Sir Henry Wilson is unfounded, as is the unsubstantiated innuendo that he was a British spy and shot Collins.
Like thousands of other Irish soldiers, he returned to Ireland after the war. While Dalton was "away at the wars", his brother Charlie was an active Volunteer who became a member of Collins' "Squad", his hand-picked team of guerrilla-fighters, and was one of the participants in the Bloody Sunday killing of 21 November 1920. Some say that Charlie used the German pistol his brother had given him as a souvenir, but this is unclear.
It was probably inevitable, given Charlie's connections and his military experience, that Emmett Dalton rejoined the Volunteers on leaving the army. As a disillusioned Redmondite, he probably felt that after the 19I8 General Election, the IRA best-represented the will of the Irish people. He had fought for Ireland during World War I and once said that he had no difficulty fighting for Ireland with the British or fighting for Ireland against the British.
Regardless of his personal beliefs, Dalton developed a close friendship with Collins and in an interview screened by RTE on the day he died in 1978 said, "I loved him. I use no other word. I loved him as a man loves another man, with pure love."