Batt O'Connor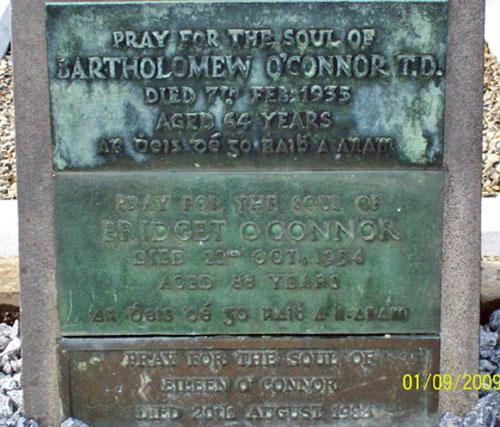 Bartholemew (Batt) O'Connor was born in Brosna, East Kerry on 4 July 1870. Educated at the local national school, he worked with his father and brother as a stonemason and in 1893, emigrated to the USA. He returned home in 1898 and moved to Dublin and in 1904 he branched out as a sub-contractor building houses.
He joined the Gaelic League in Dublin and later the Irish Volunteers and was sworn into the IRB. During Easter 1916 he was sent to Kerry to await instructions about the Rising planned in the county. However upon hearing of the arrest of Sir Roger Casement and the loss of the German guns he returned to Dublin and was arrested by the police. He was taken to Kilmainham Jail where he was sentenced to be shot but was deported to Wandsworth Jail and later Frongoch prison camp in Wales.
He formed a close friendship with Michael Collins after their release and helped him in re-organising the IRB network and the Sinn Féin organisation. O'Connor was entrusted with the gold collected from the Dáil loan and buried it under the concrete floor of his house. This was never found despite frequent raids during the War of Independence. He was elected as a Sinn Féin councillor in 1920 and soon became chairman of the council which swore allegiance to Dáil Éireann. His various houses were used as safe-houses during the War of Independence and he himself was on the run throughout 1921. He persuaded Michael Collins to go to London to form part of the Anglo-Irish Treaty delegation.
He remained a councillor for Cumann na nGaedheal after 1922 and was a joint treasurer of the party. He was elected to the Dáil in 1924 and remained a TD until his death in 1935. His funeral was attended by many of the then Fianna Fáil government.
(UCD Archives) Letters from Batt O'Connor, mainly to Máire and Billy [in America], analysing the implications of the Anglo-Irish Treaty, the Treaty debates, the possibility of civil war, the attitudes of Eamon de Valera, Cathal Brugha and Michael Collins, and the euphoria of Collins going to Dublin Castle 'to take over all its power and all it stood for'. Dwells at length on the character and significance of Collins (December 1921–January 1922). Includes a letter written from Rome when accompanying William T. Cosgrave, President of the Executive Council, and his wife on a visit there; copy of a letter from George McGrath, Comptroller and Auditor General, to O'Connor about the deposit of gold reserve in the Bank of Ireland.