Enda Kenny
 Sunday August 20th 2006
Speech by Fine Gael Leader, Enda Kenny TD, at the Michael Collins commemoration, Beal na Bláth, Cork, August 20th 2006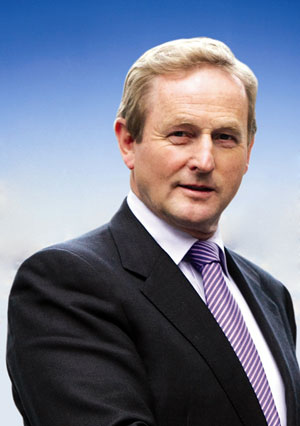 We meet here in the dust, the earth of West Cork.
It's dust, the earth that gave life to Miceál O Coileáin, Michael Collins. The dust, the earth that called him home, here, to his own, in death.
His journey was a nostalgic journey. And so is ours. Not nostalgic, in the reduced, colloquial sense. But nostalgic in the literal sense, coming from the Greek Nostos, for home, for homecoming. Therefore, I am deeply honoured that you should ask me to join you in this Nostos, this homecoming, to this sacred, political place.
As you know, Michael Collins had an extraordinary sense of belonging, to people and to place instilled in him by his father, Michael Collins Senior. Belonging, then, to the Collins blood family was crucial. But Michael Senior made it his business to transmit, to gift, to every to one of his children, especially Michael, a less tangible, yet utterly inescapable sense of belonging, this time, to what might be called, their soul family…..the people of Ireland….the people of West Cork…..who have lived here for thousands of years.
By any standards, that's an extraordinary belonging, an extraordinary connection, a transforming idea of homecoming.
Which is why I'm so honoured that you asked me to join you in this time and place apart. I want to thank, especially, Frank Metcalfe and his committee. You are doing marvellous work in preserving both Michael Collins's memory and this place.
Irish Army
I'm sure you are as proud as I am to see the Irish Army, founded by Michael Collins, represented here today. In paying their own tribute to their first Commander in Chief, at the place where he fell, they signify the enduring strength of the institutions of our democracy, which Collins worked, fought and died to achieve.
He would be proud of the distinction, with which our army has served across the world. Indeed, the Irish Army's contribution to UN peacekeeping missions, has been pivotal to building our strong, international reputation. For so many years Lebanon being synonymous with Irish peacekeepers.
And I know I speak for everyone here, in hoping that the fragile peace that has broken out in Lebanon, will be followed by a sustainable peace, respected by both sides. Even as I speak, discussions are ongoing about a new UN peacekeeping force for the region.
I will support Irish involvement in such a force, firstly, provided its mandate is peace-keeping, not peace-enforcing. And secondly, if I am confident it would have the co-operation and support of the Lebanese and Israeli Governments. In those circumstances, I believe that our army could make an outstanding contribution, one of which Collins, Irishman, soldier and statesman, would be proud.
Civilian Legacy: Efficiency, Accountability, Responsibility, Success
By being here today, we prove that we will never forget the brilliant West Cork boy, the military genius, the one-man revolution who made Ireland ungovernable, forcing the British Empire, not just to a truce, but to its knees. How could we?
But still, there are those, who, down through the years, sought to airbrush from our country's consciousness, our nation's history, Michael Collins's unique, dazzling, and irreplaceable contribution.
But equally, in remembering Collins the soldier, we must treasure the legacy that's come to us from his civilian life.
His role in drafting the Constitution of the Free State, setting up the Irish Civil Service, his brilliance in management, his rare gift for organisation that brought a delegation from Lenin himself, to see exactly, how the National Loan worked.
But above all, there was his uncanny ability to divine a new, a modern, a prosperous Ireland, from the mire of 700 years of Occupation, from the attendant learned, helplessness of colonialism and from the generational curse, of who you knew, as opposed to what you knew, to get a job, to get a wage and to get on.
In the week he died, the historian Alice Stopford Green put it:
'Michael Collins was the strength of every man who was trying in his Department to turn out the old methods, and bring right order out of bad traditions and favouritism and place hunting.'
As we know, Collins was a man who could swear fluently, magnificently….in two languages….when the occasion demanded.
And given that he was meticulous about organisation, dogged about efficiency, driven to the point of obsession about effectiveness, accountability, success, we can only imagine what this "brilliant" Minister for Finance would have to say today, about the millions of euro gone down the tube, in what we're now told is "financial engineering". It's a safe bet that it would be unrepeatable, in either language, no matter how choice.
But, I'm proud to say that Collins's mission, of success and accountability, in managing the country's finances, in getting our wealth working for the people, all the people, is the Fine Gael mission for the next government of this country.
Because with the billions the people are generating, Ireland should be so much further ahead than it is today. With our unprecedented wealth, we could have done so much better. But after the next election, by putting our money to work for the people, we will. And as a responsible, modern, reforming government, we will manage the people's money first, always, in the national interest. We will use the vast resources being generated by the economy, to deliver first-class services for our first-class people. In a sense, it's the just society in practice. This time, all the money for all the people.
Ireland First: Country Over Party
Many may have disagreed with Collins's politics. But no-one could doubt his principles.
And 84 years on, they're the principles that drive Fine Gael.
The principles on which we will fight the next election.
The principles on which we will build the next government of this great country.
Because for us, a government must act, not as smug, back-slapping owners, but as watchful trustees. Trustees of Ireland's security, Ireland's prosperity and future direction. Which is why when others have shifted, when others put party-political gain, and potential coalitions, over Ireland's national honour, Fine Gael did what we have always done.
We stood by Ireland.
We stood by the institutions of the State.
We stood by Collins's principles….and in doing so….we stood first, last, always, by the Republic.
In the run-up to the commemorations of the 1916 Rising, there were those who sought to strike from the record and from memory, our central role in creating the Irish State, in establishing and developing, Irish democracy.
But today, the day an inclusive, modern Ireland remembers Michael Collins, I can say how proud I am of how successive Fine Gael-led governments, built on our founder's democratic achievements. It is important that a new, inclusive Ireland, be inclusive, also, in her remembering. Therefore with true generosity of heart and spirit, we honour:
* The immense contribution of WT Cosgrave in presiding over the birth of Irish democracy from 1922 to 1932.
* We remember John A Costello in declaring the republic in 1949.
* Liam Cosgrave in leading Ireland into the United Nations in 1957. And his signing of the Sunningdale Agreement 16 years later.
* And Garret FitzGerald's concluding the historic Anglo-Irish Agreement in 1986. That Agreement and Sunningdale, the precursors to the Good Friday Agreement, which, FG have always supported, unequivocally, patriotically, in Opposition.
These were crucial milestones in developing the Ireland we are privileged to live in today.
Security & Public Order
And part of that privilege is security and public order. Like Collins, Fine Gael believes that the security of the State, the maintenance of public order, must always be the first duty of government.
If democracy is to function then all political parties, without exception, must support, unequivocally, the forces of law and order. In this case, an Garda Siochána and Ireland's Defence Forces, the one true, Oglaigh na hEireann.
These are Ireland's legitimate forces of law and order. Our democracy cannot accommodate a private army or a private police force. The oxymoron, vigilante justice, has no place in Irish democracy, Irish society.
The Provisional Movement has made notable progress in its move from terror, especially, since the IRA announced the end of their armed campaign. Positive steps have been taken to reduce paramilitary involvement in crime. But, I believe that Sinn Fein have a way to go, before they can be fully accepted as a wholly-democratic party.
To complete the journey, firstly, they must accept an Garda Siochana and the Army as Ireland's sole, legitimate source of law and order.
Secondly, they need to accelerate their own internal debate on supporting and joining the new police structures in NI. Only then will power-sharing be sustainable and the truly inclusive police service, envisaged under the Good Friday Agreement be realised.
Indeed, with Collins's optimism, I look forward to the day when SF will stop defending those who profit from criminality, and start to support the legitimate law -enforcement bodies, both here and in the UK, as they track down the vast profits from paramilitary crime.
Equally, I want to see the loyalist paramilitaries turn away from violence and crime. Having met, privately, with some of their leaders, I know that much is being done to persuade them of the urgency of this task. But there are many in their community, who feel isolated from the political process.
I urge the Irish and the British governments, to intensify their efforts over the coming months, to encourage and help those in Loyalism, who want to pursue their aspirations, through purely democratic means and structures.
Gardaí
And here in the Republic, an Garda Siochána, founded by this party, is a structure that is central to Ireland's democracy.
The publication of the Morris Report raises serious issues and challenges for the Gardaí. There are two critical issues. Firstly, an Garda Siochána, itself, whose morale is surely reeling from the body blow that is the Morris Report. And secondly, public confidence in the Gardaí.
Today, we condemn, outright, the shameful, dishonourable behaviour of some members, addressed in this Report.
But at the same time, we honour the excellent men and women within an Garda Siochána, whom Morris praises for their courage and integrity. But who are, today, tainted, damaged, and I'm sure deeply hurt, by the appalling actions of the minority. Of those who bring dishonour on themselves, on the Garda uniform and on this country.
So, let me be clear: any man, any woman who answers Michael Collins's call to public service, must have absolute confidence, and an absolute guarantee, that the government and their agents will set, uphold and demand the highest standards of integrity, ethics and probity. And I'm saying to them today, in Fine Gael, we will.
And this is about more than professionalism. It's about something even higher. Because when anyone joins the Gardaí, they cross a moral threshold. Joining the Gardaí is a distinctly public action, with serious implications for public trust, for public confidence, because the performance and actions of the recruit, are of such enormous public consequence.
Therefore, once the highest ethical standards are set and demanded, it has to be made unmistakably clear to every serving member, and to every recruit, that in an Garda Siochána, accountability, obedience to authority and a profound sense of service to the people, are not and never will be, optional extras. It has to be made clear that these are the very essence of policing in this country. Because our Gardaí will only be as respectable, as they themselves, respect.
The second issue is public confidence. As Collins knew well, public confidence in the police force is indispensable to faith in democracy. And people will have confidence in their police force, and in their democracy, only when they see for themselves, rigorous standards of probity imposed, demanded and practised.
Therefore, we have a moral and public duty to fortify the culture of probity in our police force. We must ensure that probity is deeply embedded throughout an Garda Siochána and indeed, throughout the next government.
I want to see reform of An Garda Siochána that will see a serious improvement in its performance. Because right now, our Gardaí are forced to face new challenges, a new type of crime, a new breed of criminal, under-manned, under-resourced and undervalued.
Consequently, the sharp fall in serious crime, after the death of Veronica Guerin and the establishment of the CAB, has now been completely reversed.
Detection rates – the litmus test of effective policing – have fallen consistently for six years in a row.
Efforts to contain the new, vicious patterns of crime have been disappointing, with killings, assault, and possession of fire arms, highlighting this rapid rise in the rate of crime, and a sharp fall in the rate of detection.
Obviously, one of the key challenges for a new government, is to reform, to transform the delivery of public services, so that we get better results for the money we invest. This has huge-scope for fighting crime. And one of the ways we can do this is to get our Gardaí working more efficiently and effectively together, sharing information, learning from each other, teaching each other. Our Gardaí are highly-motivated, highly-trained professionals, desperate to make a difference. Let's get them to make the most of their skills, their potential, their passion to serve, by implementing new work practices that are proven to raise the game and get results. Our Gardaí are eminently capable of accommodating, even welcoming that kind of reform.
In addition, if we are serious about modernising our police-force, we should look at adding to their skills base.
Opening up senior Garda positions to experts from outside the force, whether that be recruiting experienced officers from overseas, or others with expert skills in specialist areas, from the wider community.
One of the big success stories in the fights against crime is the CAB. It's working well nationally. Now, let's see it work equally well locally.
I want the CAB to be given whatever it needs to reach beyond the national crime bosses, to the mini-godfathers peddling misery in the smaller towns around Ireland, their lavish lifestyle, a public mockery of their "official" income. It's time to use the CAB to make that vital difference.
Conclusion
To conclude then, let's say that Collins didn't make a vital difference. He made a seismic difference. He wrote:
"I stand for an Irish civilisation based on the people…. The object is not to be able to boast of enormous wealth nor of great volume of trade for their own sake.
It is not to be able to show a great national balance sheet…. Rather, it is whether the people are rich in body and mind and character."
Today, we have the balance sheet. Now the challenge is to get it working, for all our people.
* For the growing number of families who'll need the Vincent de Paul to get their children back to school.
* For the one in three children in poor areas who leave school hardly able to read or write.
* For our old people, who, increasingly, are leading lonely lives, in often unbroken, stunning silence.
You…..and Ireland deserve better.
And in looking for better, we honour our best. Michael Collins lived on the edge. His colleagues called him "a human whirlwind. Realistic to the point of bluntness. Yet, having none of that dangerous certainty, that left the country Grand-Canyon deep in conflict and pain.
We see this in what Churchill wrote on the signing of the Treaty:
"Michael Collins rose looking as though he were going to shoot someone. Preferably himself. In my life, I have never seen so much pain and suffering in restraint."
No wonder then that Collins wrote to a friend:
"When you have sweated, toiled, had mad dreams, hopeless nightmares, you find yourself in London's streets, cold and dank in the night air. Think….what have I got for Ireland? Something which she has wanted for the last 700 years? Will anyone be satisfied with the bargain? Will anyone? I tell you this morning, I signed my own death warrant."
We see from both accounts, and from his life… and death…. for democracy…..that:
Bhí nádúir ann.
Duine uasal a bhí ann.
There was nature in Michael Collins. He was brilliant and passionate and impatient and gruff and grámhar. But he had, too, an innate sense of the noble.
He took charge of a country, reeling from 700 years of oppression, and divined for it a new, a better future. That was itself, a Nostos, a homecoming to ourselves, the soul family, after centuries of uncharted exile in our own land.
Collins has given us a compelling inheritance of politics and leadership as they should be, redolent of courage, openness, daring, and above all, about humanity and humility. Even more compelling is that this political inheritance should come from someone who loathed politics and considered himself, above all, a soldier.
I've always been struck by the fact that three of the greatest soldiers in the modern world were all born within weeks of each other: General Dwight D Eisenhower, General Charles de Gaulle and General Michael Collins.
General de Gaulle became leader of the Free French in Exile and later President of the Fifth Republic.
General Eisenhower became Commander-in-Chief of the Allied Forces in World War 11 and later President of the United States. To be succeeded by one John F Kennedy.
But for the third, General Michael Collins, the impulsive order
"Stop! And we'll fight them", meant there would be no later, just this, the last place on an extraordinary journey.
A Nostos that saw the birth of a new hope, a new State and new future for the Irish people….Collins's people.
He wrote just before his death:
"Ireland is perhaps the only country in Europe which is now living in hopes for a better civilisation. We have a great opportunity. Much is within our grasp. Let us advance and use those liberties to make Ireland a shining light in a dark world."
With his uncanny connection to the millennia of the life of his people, on this island, Michael Collins would no doubt feel, that though we have come a long way, still, we are only starting. Our emigrant island is now an immigrant one. We are a young, successful country, an ancient compassionate people, welcoming the new. I believe that our transforming journey has only just begun and once we start to make the most of our wealth, the most of our opportunities, there will be just no stopping us.
Ireland missed Collins. After 1922, I believe that Ireland would have been somehow bigger, more joyful, more colourful, more exuberant, with Michael Collins in it.
On his death, at this place, George Bernard Shaw wrote to Michael's sister:
"I rejoice in his memory and will not be so disloyal as to snivel over his valiant death. So tear up your mourning and hang up your brightest colours in his honour."
Today, and in our next government, for the Big Fella…. Miceál Ó Coileáin…. Michael Collins…. that is precisely what we will do.