Shelbourne Hotel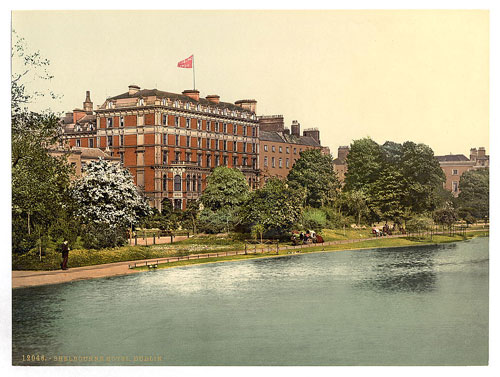 The luxurious Shelbourne Hotel is one of Dublin's finest establishments and holds a place in Irish history both inside and out. The exterior still bears the marks of artillery from The Rising and the Irish Constitution was drafted in room 112. Speak to the Hotel's concierge to visit what is now nicknamed "The Constitution Room."
The view in this photomechanical print is taken between 1890 and 1900 and shows a young St. Stephen's Green. Note the British flag flying atop the Shelbourne. The Hotel is now shielded by trees from this angle which is most likely near or possibly on the footbridge within the Green.
On day two of The Rising (Tuesday) British gunmen stationed themselves on the fourth floor of the hotel for a clear shot of the rebels in St. Stephen's Green down below.
In 1922, The Shelbourne hosted the drafting of the Irish Constitution in room 112, under the chairmanship of Michael Collins.
This dignified meeting room is now The Constitution Room, which holds replicas of the original document. Today it is still used for important gatherings.
The Constitution was shaped by the requirements of the Anglo-Irish Treaty, signed between representatives of the British Government and the Irish Republic in December 1922. Among the central requirements laid out in the Treaty were that the Constitution had to contain: (a) An Oath of Allegiance; (b) A Representative of the Crown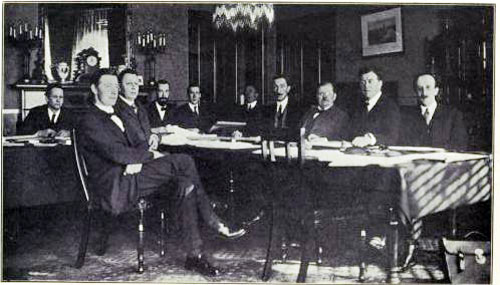 The Constitution Committee in Session
From Left to Right:- R.J.P. Mortished (Secretary); John O'Byrne, B.L.; C.J. France;
Darrell Figgis (Acting Chairman); Ned Stephens, B.L. (Secretary); P.A. O'Toole, B.L. (Secretary);
James Mac Neill (sic); Hugh Kennedy, K.C.; James Murnahan (sic), B.L.; James Douglas.
(Prof. Alfred O'Rahilly and Kevin O'Sheil, B.L., were absent from the Session.)
The Constitution of the Irish Free State was drafted by a committee under the nominal chairmanship of Michael Collins. Collins attended only the first meeting of the Committee, and Darrell Figgis, the vice- Chairman became acting Chair. The committee produced three draft texts, designated A, B and C. A was signed by Figgis, James McNeill and John O'Byrne. B was signed by James G. Douglas, C.J. France and Hugh Kennedy and it differed substantially from A only in proposals regarding the Executive. This difference was intended by Douglas to permit the Anti-treaty faction a say in the final proposed constitution before its submission to the British Government. As such it was, according to Douglas, an attempt to ameliorate the pro- and anti-Treaty split. Draft C was the most novel of the three. It was signed by Alfred O'Rahilly and James Murnaghan, and provided for the possibility of representation for the people of the northern counties in the Dáil in the event of that area opting out of the proposed Free State.
The official Irish text was then drafted as a translation of the English text. The Irish language version was drafted by a committee which included the Minister for Education, Eoin MacNeill; the Leas-Cheann Comhairle (deputy speaker), Pádraic Ó Máille; the Clerk of the Dáil, Colm Ó Murchadha; Piaras Béaslaí; Liam Ó Rinn and Professors Osborn Bergin and T. F. O'Rahilly.