College Green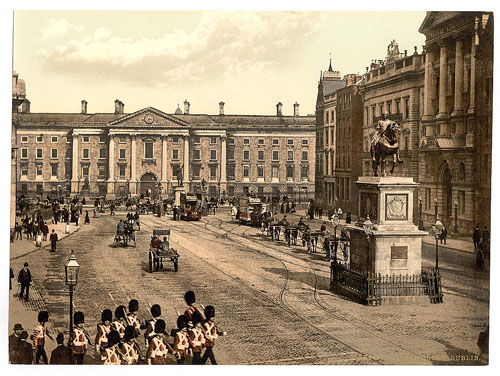 Due to the lack of manpower, the rebels purposely ignored College Green and its two key structures Trinity College and the Bank of Ireland during The Rising. They instead concentrated their stronghold on Sackville Street. Trinity College was a British strongpoint however.
This first photomechanical print shows College Green with Trinity College in the background sometime between 1890 and 1900. Trees now block a similar view when standing by the Starbucks today. Trinity started out as a Protestant college way back in 1592 after a group of Irish citizens were granted a charter from Queen Elizabeth. The College began accepting Roman Catholics about 200 years later.
The second photomechanical print is of the Bank of Ireland from a similar timeframe. Irish labourers completed the building in 1739 to house Ireland's Parliament. Remodelled in 1808 it became the main residence of the Bank of Ireland.
Australians in Dublin 1916
Among the Crown forces who put down the rising were Australian soldiers in Dublin at the time the fighting broke out. This little known involvement of Australian soldiers in the Easter Rising is alluded to in a biography of Michael Collins by Tim Pat Coogan who, after describing the treatment of Irish prisoners by soldiers of the British Army, wrote:
And the cheery word, and even the cup of tea, was not unknown, particularly when an Australian unit relieved the Royal Irish Rifles from Belfast.
Unfortunately, Coogan did not identify the Australian unit or disclose his source for saying there was such a unit in Dublin during the Easter Rising. Nevertheless, other published works on the rising also mention the presence of Australians in Dublin.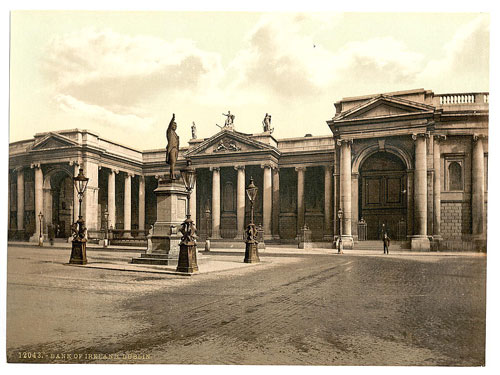 It was wonderful shooting. He was one of three who were riding past on bicycles. Four shots were fired. Three found their mark in the head of the unfortunate victim. Another of the riders was wounded and escaped on foot. The third abandoned his bicycle and also escaped. This shooting was done by the uncertain light of the electric lamps, and at a high angle downwards from a lofty building.
The writer later met the soldiers:
After being relieved, I joined the Anzacs on the roof. They were undoubtedly men fashioned for the enjoyment of danger. And certainly it would be harder to find nicer comrades. Alas for thousands of these fine soldiers who have left their bones on Gallipoli!
And he gave them even higher praise by claiming: "There can be no doubt that the accurate fire maintained from the College was an important factor in the salvation of the City."